Sticking with one productivity system
This year I tested lots of task list managers, project managers and to-do list apps. I was not happy with my current system which consisted of Evernote + Todoist + Google Calendar and Google Drive to store files.
You see, I've been using the GTD method for 5 years now. It all started in a moment in my life when I was feeling extremely overwhelmed. I had a full time job and taking courses for a masters degree in Civil Engineering. I felt disorganized. I didn't have a clear view of my life. And so I started looking for ways to get in control.
Phase 01: Evernote
I started having everything inside Evernote: contexts, references, projects lists, checklists, areas of focus and all the higher horizons of GTD. That worked for a while but soon I felt that I needed a dedicated app for task management. Evernote didn't give me the satisfaction to cross off a task, per se. It was all done with tagging, so not very practical. I spent a lot of time tagging and untagging notes.
Phase 02: Todoist+Evernote
Then I started using Todoist. I kept my projects in Evernote and created the tasks in Todoist. In GTD actions are the most important part of the system: we only complete project by executing actions. So the "contexts" idea of GTD is kinda the central pillar of the system. Actions are always inside a context. And so I had a huge list of actions inside contexts, as we all do. And even though GTD tells us to prioritize actions based on context, time available and resources, I could never do it without getting overwhelmed.
The other issue I had was having the actions separate from its projects. There is a recommendation in GTD that it is better to keep actions separated from projects so that you keep focused and engaged on doing, rather than planning. Since I had all my projects in Evernote and tasks in Todoist I felt like this always created a duplicated effort: list the next actions inside the Evernote's Master Project Note (MPN) and then copying them to Todoist. I've never thought this was a practical approach to project management.
So then I tried to use Todoist as a project management tool, with the tasks associated with each project. BUT, since the notes section in Todoist is quite simple, I still had the MPN's inside Evernote. And it was not working well. The final straw for me was the inability to install Evernote on my computer at work when I got a new job. Long story short, 2018 was the year I started to desperately search for other solutions for my productivity system.
Testing Tools and Apps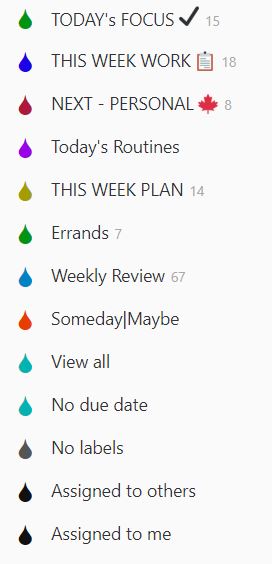 First of all I tried to customize Todoist to my system. I read dozens of articles on how to create queries for filters in Todoist. I tried the Eisenhower Matrix method, I tried creating custom filters, combination of tags, minimal tags, priority flags and nothing seemed to work right for me.
I then went out on a frenzied testing sprint:
Nirvana HQ

Full GTD.
I like the minimalist look, simple and only focused on next action.
I like both the mobile app the web version.
I like that I can set up "Areas" and filter all tasks according to these areas. So I can have "PERSONAL" and "WORK" and "BLOG" or whatever. Seems nice! The advantage is that the filtering is already built into the software, so I don't need to create specific filters.
Doesn't have integration with Evernote or Google Drive. But I can add links to a task.
I like the schedule function (it's the implementation of the "INCUBATE" in GTD.
Parallel vs Sequential tasks in a project: love this! It's something I've always wanted to implement specially for sequential tasks. That way I don't have unwanted tasks out of order showing up on my lists (I know I could solve this with tagging and weekly reviews, buy sometimes I had these tasks coming up during the week). It's a very handy feature!
I like the "Zen" aspect of Nirvana. Really, I don't feel overwhelmed with it (like I always did with Todoist).
Features:
Filter by area (it hides the rest)
Easy to tag and filter for context (I really hate Doit.im's Context vision.)
project template
sequential/parallel options for projects
Reference Lists that can be turned into a project (eg. grocery list)
easy recurring task
the focus tab for actions with a deadline, or things you tag with a star (= things you will do today)
the Later tab, for things between Next and Someday

Doit.im

Full GTD.
The mobile app is okay.
Says it has integration with Evernote. I tried and it didn't work.
Keeps saying I have to confirm my e-mail address but I never get their confirmation message.
Can't export data.
The company is hosted in China.
Seems like they are not very active in developing the app.

Toodledo

List based.
Seems more complicated than it needs to be.
Lots of manual configuration/filters to be done to be a GTD system.

TickTick

Looks like a simplified version of Todoist. Very similar, with date based tasks.


Remember the Milk

So ugly!
I still had my account that I set up to try in 2012!
I hated the side bar menu.

GTDNext

GTD focused.
It seems it doesn't have any mobile app yet.
Seems old fashioned.
Kinda ugly.
No new Twitter activity since April/2018.
Lots of "problems" in the community forums.

Amazing Marvin

It's more like a daily planner that you can customize.
It's a different concept but I think that after years trying to get GTD right, I am going to go full GTD with the simplest and straightforward configuration possible.

Any.do

Simple.
Has a nice feature to filter by time or area of focus.
But it doesn't have sub-tasks.
Phase 03: Nirvana HQ
I really liked this app! I used it for about 2 weeks but then the lack of a good notes field and no integration with Google Drive or Evernote let me down.
Phase 04: Enter Kanban and Trello

I have never used Kanban but I knew it was a thing. So I decided to test Trello. And I read articles and the book about it Personal Kanban.
I loved the approach!
Trello is easy to use and the visual aspect of it is great. I transferred my work and personal related projects to Trello. And I decided to stick with it.
Until today, when somehow I was curious to know how Asana, Meistertask and Zenkit worked. Just in case they were awesome and I was missing out. So I spent about 1 hour today testing those apps and reading articles about them. They aren't for me. They are more business/teams oriented. But I had to see!
And so that made me wonder why am I always searching for a new productivity app? Why can't I just be happy with the tools I have?
So I decided: I will stick with my latest Trello installment, which combines GTD principles with Kanban and be happy. I think 6 months is a reasonable amount of time to test my system and make it work for me.
We will see!
#productivity #GTD #trello #kanban
Thoughts? Discuss... if you have a Write.as account or Reply by email
---
By Noisy Deadlines Minimalist in progress, nerdy, introvert, skeptic. I don't leave without my e-reader.