Moving my book tracking to BookWyrm
Since Goodreads was bought by Amazon I've been trying to find a replacement for my book tracking. Last year I moved over from Goodreads to The Storygraph.
And then I decided to explore the Fediverse using Mastodon and heard about BookWyrm: a federated social network for book lovers. When I knew that I could import my data using a CVS file, I gave it a try. And I'm loving BookWyrm!
Here are the steps I took to make the move:
Choosing an instance and signing up
There is this neat landing page that can help us see the list of available instances and choose one to join. I chose the flagship (the biggest) instance and joined bookwyrm.social. After my request to join was approved I got a message to confirm my email and logged in.
Importing books to BookWyrm
BookWyrm can import books from a CSV file. Both Goodreads and The Storygraph offer an option to download our data. I downloaded the CSV from both services because I wanted to have a backup of all my data. You can use either of them to import into BookWyrm.
Downloading CSV data from Goodreads
To import or export data from Goodreads, go to My Books, then click on Import and export under Tools on the lower left.

To Export your books to a .csv file, click on the Export Library button at the top of the screen, below the Export heading, then wait for the file to generate.

Once the file is ready, it will show below the "Export Library" button and you can download it.
Downloading CSV data from The Storygraph
Click on your profile picture and choose "Manage Account", go to the bottom to "Manage your Data" section and click the "ExportStorygragh Libray" button.

Click on "Generate Export". When the export is done, you'll get an email notification.

Go back to the same page to download the file.
BookWyrm Import Process
I had 700+ books in my database (to-read + read books), so I knew importing data would have its challenges. I did an import process before when I moved from Goodreads to The Storygraph, and not all entries were perfectly imported.
This time, to move all my books to BookWyrm I used my latest CSV exported from The Storygraph, which was my most recent data. In BookWyrm, I followed these steps:
Click on the profile picture at the top right corner and select "Settings".

Choose the "Import" option at the left side menu.

Choose the data source and attach the CSV file.
The process can take a while depending on how big the database is. For me, it took around 2 hours.
After the process was completed, I noticed that not all books were imported, so I went back to "Settings/Import" and checked out the Import Status.
The Import Status showed the items that need manual approval and the items that failed.
Failed Items
For the items that failed, I clicked on "View and troubleshoot failed items" and re-tried the importation process by clicking on "Retry all". After doing this, I got no more failed items, only the list of items to be reviewed.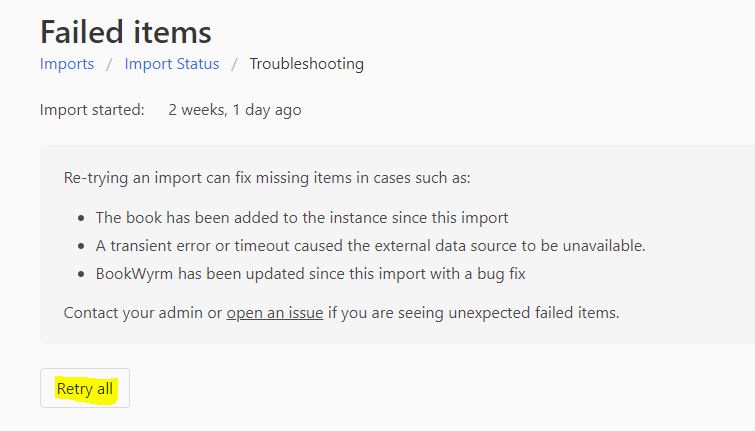 Items that needed manual approval
So then I went through the items that needed manual review. There were lots of them. I noticed that the books that were in French or Portuguese were not correctly assigned, so I made a note of these, after marking them as Rejected.
I approved the books that were correct. In the end, I had 126 books books that I rejected and I'll add them manually later. These are mostly books in Portuguese or French or indie books/lesser-known books.
So, the import process in BookWyrm is not perfect especially if you have a big database. To be honest, that didn't bother me that much because I keep my own master spreadsheet with all the books I've read so that I'm not 100% dependent on an app or service to store this info.
So I'm slowly adding those rejected books to the database, a handful a week or so.
When you manually add a new book to BookWyrm, you help grow its database, so that other users will see that book later on.
My overall thoughts so far
The Storygraph is great, but it doesn't have much of the social interaction/discussion focus as BookWyrm. I felt kinda lonely in The Storygraph, to be honest. The stats it generates are great but it focuses a lot on offering book recommendations, which is not something I care about too much.
I think BookWyrm does everything I expect from a book tracking website:
It tracks my reading (start/end dates and percentages).
It tracks my Reading Goal for the year.
It organizes my shelves and I can create my own shelves (For example, I created a shelf for books that I did not finish – DNF). Edit: BookWyrm now has a native bookshelf for that called "Stopped Reading".
I like that I can leave a comment, record a quote, write a review or just rate a book with stars. All these features have options for you to keep the information public or private.
Plus I like having the option to interact with other readers. Community-wise, I find it super enjoyable and friendly, as opposed to Goodreads, which feels like a noisy/messy place for me.
It's ad-free!
And since it's federated, anyone can follow my reading updates on the Fediverse: noisydeadlines@bookwyrm.social.
#books #bookwyrm #fediverse #reading
Thoughts? Discuss... if you have a Write.as account or Reply by email
---
By Noisy Deadlines Minimalist in progress, nerdy, introvert, skeptic. I don't leave without my e-reader.