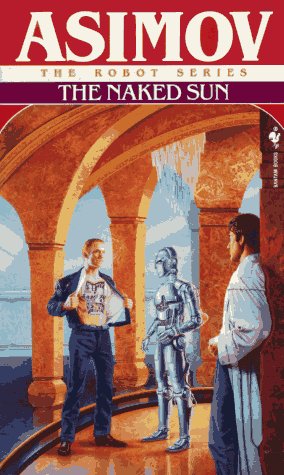 The Naked Sun (Robot, #2)
by Isaac Asimov
Kindle Edition, 271 pages
Published (first published January 1st 1956)
Read from April 23 to May 05, 2015
My Rating: 5 / 5 stars
—
Science fiction and murder investigation: I love this combination. This is the second book of the Robots series and I read it 3 years after reading "The Caves of Steel". I am not sure why I took so long to start reading this one, but I not disappointed. It was a great contrast if compared to the first one where the detective Elijah Baley was investigating a murder case on Earth with underground cities and crowded spaces.
The Naked Sun takes place in an Outer World planet called Solaria which has only 20 thousand humans that live with 200 thousand robots. Elijah Baley is once again working with R. Daneel in the investigation. The culture, habits and taboos are completely different in Solaria, where humans are not used to seeing each other, instead, they socialize through "viewing", something resembling a uber high-tech-quality with immersion Skype talk. Like all good detective stories, there was no obvious motive, opportunity or weapon on the crime scene. There are many elements in the story that reminded of the classic Sherlock Holmes stories, which I love.
Of course, Asimov's delightful ability of discussing ethics and laws related to robots are present:
He said, "I suppose I should have asked if any robots were present?" (Damn it, what questions does one ask anyway on a strange world?) He said, "How legal is robotic evidence, Daneel?" "What do you mean?" "Can a robot bear witness on Solaria? Can it give evidence?" "Why should you doubt it?" "A robot isn't human, Daneel. On Earth, it cannot be a legal witness." "And yet a footprint can, Partner Elijah, although that is much less a human than a robot is. The position of your planet in this respect is illogical. On Solaria, robotic evidence, when competent, is admissible."

Isaac Asimov, The Naked Sun, pg. 80, loc. 1215-1221. Kindle Edition
And above all the murder mystery the book brings interesting reflections and questions on the human need for robots, the limits of artificial intelligence and our values as human beings.